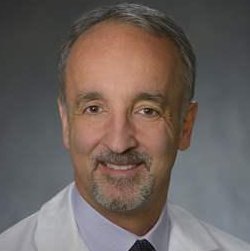 Expert from
Main Line Health
Wynnewood, PA, United States of America
I initially work to understand the patient's concerns regarding their illness, as well as their goals for therapy. Based on these discussions, the various available treatment options are presented to the patient and their family along with a recommendation as to which one appears to fit them best. In the end, it is important for the patient and their family to feel that they have a voice in their health care and are invested in their treatment plan. Lastly, I work to make certain that all procedures that are performed are done at the highest level and with the greatest degree of expertise—so that the decisions we make in the office result in the best outcome possible for the patient and their loved ones.
I graduated cum laude from Dickinson College in 1980, and Temple University School of Medicine in 1984. I competed an internship, residency and chief residency at Brown University from 1984–88. I stayed at Brown until 1992 to complete my clinical cardiology fellowship, which included a year of basic research and a year of dedicated interventional training.
I went into private practice in Albuquerque NM from 1992–99, during which time I was involved as a board member with the construction of a free-standing Heart Hospital, served as president of our group and began research in early non-surgical approaches to peripheral vascular disease, especially in patients with carotid artery disease at risk for stroke.
I was recruited to Swedish Medical Center in Seattle WA to begin a program in Endovascular Care (the treatment of peripheral arterial disease by non-surgical means). While at Swedish (1999–2005), I also began research into structural heart disease, specifically stroke prevention by closing holes in the heart or by blocking off areas of the heart where clot forms in patients with atrial fibrillation, and non-surgical repair of mitral valve leakage.
The opportunity to return to academic medicine presented itself when Columbia University in New York City proposed an academic professorship position in their cardiology division. I practiced, taught, and conducted clinical research there from 2005–10. While there, I contributed to the design of many national clinical trials and ultimately run several of these national studies of medical devices that lead ultimately to their approval by the FDA. While at Columbia, I also worked with the Centers for Medicare and Medicaid Services advocating for greater patient coverage for FDA approved devices. Lastly, I was an active member of the Cardiovascular Research Foundation. a freestanding non-profit that conducts, analyzes and reports on large-scale research and also runs the largest interventional cardiology educational meeting in the world annually, for which I was a co-director.
I am excited and honored to return home to Pennsylvania and Philadelphia to work at Main Line Health and the Lankenau Heart Institute in a leadership position, and look forward to continuing to grow and develop an already excellent cardiovascular program that serves its community in the best ways possible.